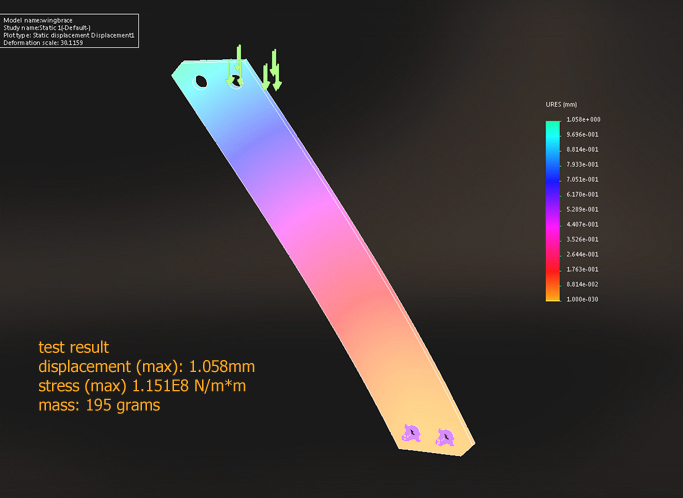 Strength versus weight…. the common belief is that you can drill holes in practically anything to make it lighter, without compromising strength. We drill holes in everything, and seldom worry about the strength of what is left behind. A lot of the time it doesn't matter.
Sometimes strength and stiffness is critical however. In that case, is it true that drilling holes is the best way to add lightness? I recently made some simple bolt together bracing for a car with a very flimsy body being asked to hold up a wing with the potential to make a lot of downforce. The braces consisted of some frame and body side mounting brackets and with aluminum bar connecting them. Simple.
And keeping it simple, what is the best way to keep things light while maintaining enough stiffness to prevent the area surrounding the trunk from caving in on itself at speed?
The easiest thing to do is to cut the bars out of solid 3/16″ aluminum. Pulling out my nameless auto cad program and doing some testing, we approximate about 1mm of displacement under full load, and a weight of 195grams, which came in a little bit lighter than the actual piece I constructed for test fitment on the car.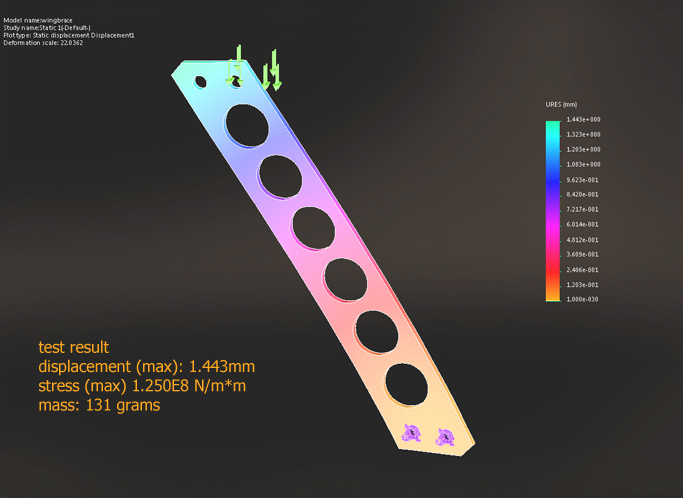 The obvious thing to do is drill some holes. Note that my testing showed that hole size has a pretty big impact on the result. A single column of larger holes does a better job of shedding weight while maintaining strength, than does multiple columns of smaller holes. Of course, making the holes too large seriously compromises structure. The best balance I found was 1.25″ diameter holes through the 2″ bar.  The weight savings were 33%.  Stiffness and strength drop 27% and 8% relative to our solid bar.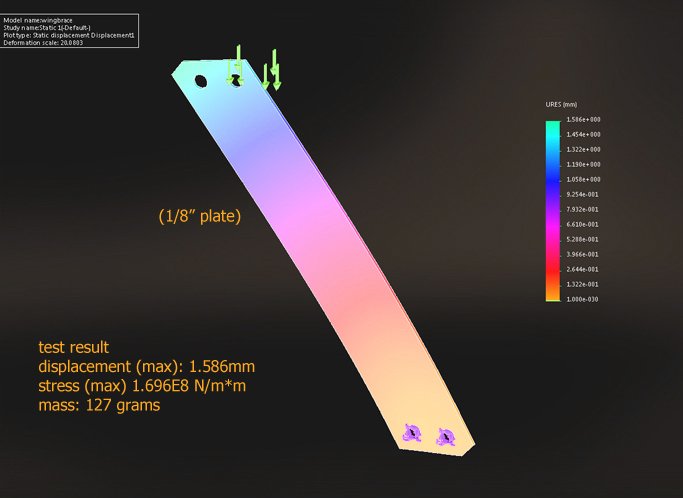 That seems like a reasonable step forward, but if weight savings are important, what about starting with thinner bar? Shaving 1/16″ off the solid bar lends very similar weight savings (35%), but a much larger 34% drop in stiffness and 32% drop in strength.  As you might expect, considering "strength versus weight" there are negligible gains.  But if the structural requirements allow, it's a much simpler way to save weight than starting with something big and cutting holes in it.  Obviously.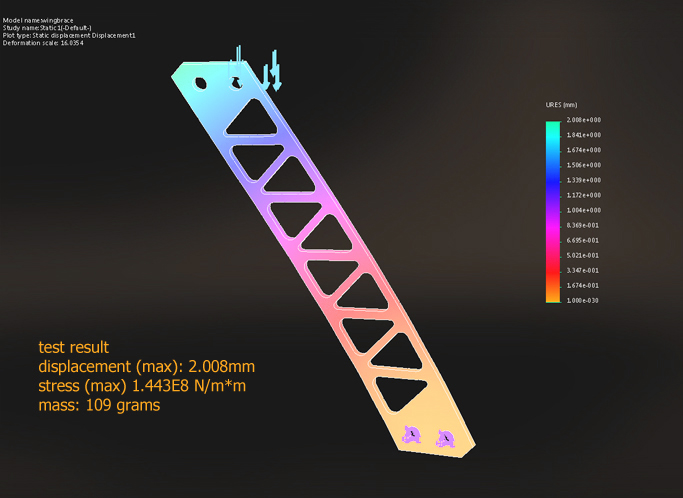 If this was a race car that was professionally built and engineered 20 years ago, you might see something like this. Weight savings are 46%. Strength falls only 20%, but stiffness is a disappointing 48% that of the solid 3/16″ bar. Stiffness is what is critical to this application, making this design an obvious dump. However, it is also not nearly as easy for a hack in his garage to create. Possible… but, not as simple as just drilling a few holes.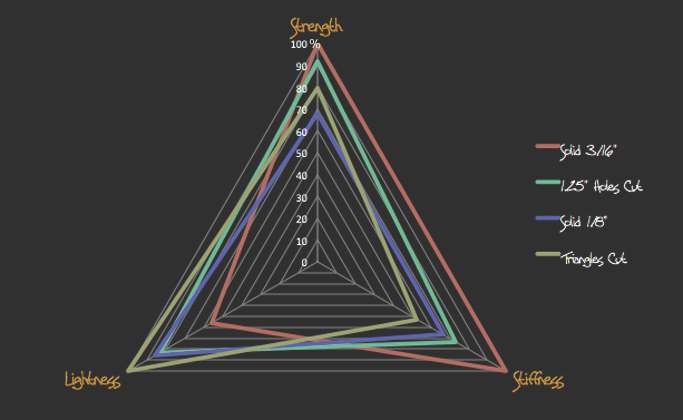 I played with a number of different designs, and was somewhat disappointed (although not surprised) that none of them provided better results than a single line of holes. That's not to say its the ultimate: 3D structures can easily provide superior stiffness versus weight. When we have limited machining tools/skills however… and hole saws are cheap… making swiss cheese of everything gets really tempting.