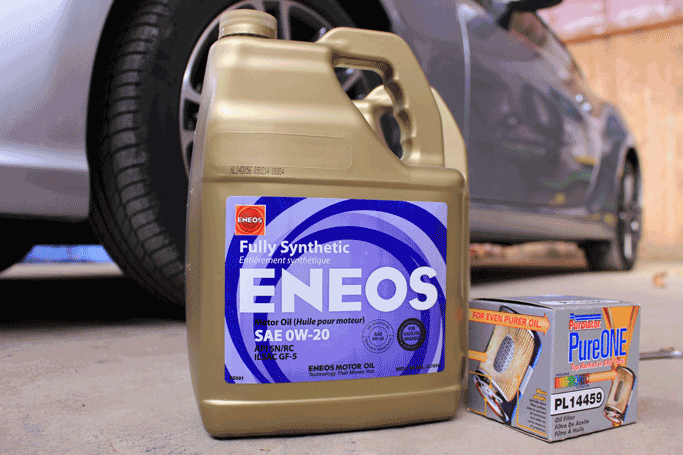 One oil change done on the FRS… and I'll say that doing the work there was even more satisfying and enjoyable than driving the car. Imagine looking underneath a car and finding everything… everything… perfect and clean. No nasty undercoating, no rounded off bolt heads from some dufus making do with his imperial wrenches, no leaky power steering… and not even a spec of rust!
Driving this car in the winter is going to be tough…
I went with Eneos oil and a Pure One filter… because it's good stuff. Some suggest the black JDM Subaru oil filters (i.e. what came on the car but isn't available at the dealerships here) is the best filter money can buy. The Purolator filter though has some of the best, if not the best filtration characteristics of any filter I've seen tested, plus it's available at my local family owned auto parts store for a price that isn't unreasonable… and it's yellow…
Eneos synthetic is as expensive as anything else in Canada ($65/3.7L), and it's not even their best product. Eneos Sustina is what all the oil geeks really want, but I have to special order it here, at a cost that is almost double the Eneos synthetic that sits on the shelf at Napa. It is super awesome Japanese racer liquid though, and I like that… even if it clashes with my bland ass american filter.
What I'll probably do though is switch to an oil that's a bit cheaper and change it all every 3000km or even less if I'm bagging the car at the track or on the lake. That's what I've always done… and no issues so far…