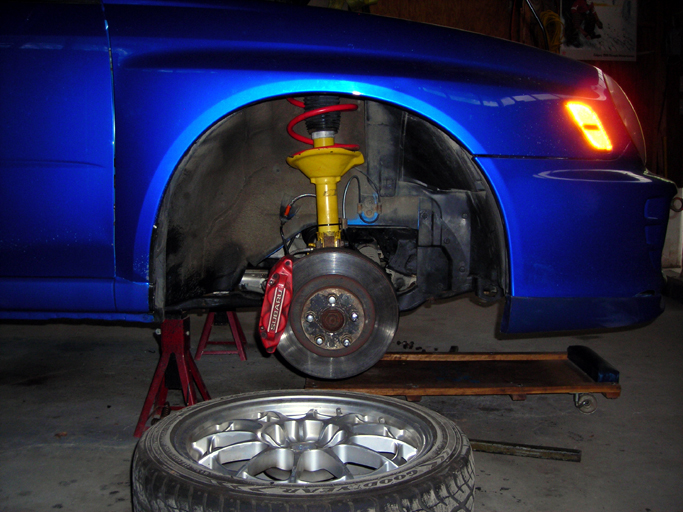 I have some new parts.  Long travel inverted Bilstein's were the first item, and the only planned item, but I tend to buy more and more parts while waiting for others to arrive.  I was going to stay legal for stock class, but it's too easy to leave that behind.
As I said, it started with the Bilsteins.  The old shocks were a little tired, and Bilsteins are cool.  These are inverted, with a LOT of travel.  I.E. almost double what my Celica had.  Still stock legal though.  And so is the rear sway bar that I ordered while waiting for the suspension to arrive.  But of course, it hadn't arrived by the time the suspension did.  I changed the suspension, and left the car on jack stands in anticipation of the sway bar swap.
But then, with the car on stands, I just started poking around at things.  I pulled the air conditioning out one day on a whim.  It wasn't charged, didn't blow cold, and I barely drive this car in the summer anyways. It saved 30lbs off the nose of the car, but just like that I wasn't stock legal anymore.  The flood gates opened.  Instead of just swapping brake pads like I had planned, I decided to buy 4-pot calipers… and brake lines…  and a front lip.  All cars with have upgraded brakes must have some kind of front lip of course.  I kept myself entertained by de-skirting the kick panels and filling the holes underneath, as well as building a splitter while waiting for those parts to show up.
Then the day came when all my parts had arrived, were installed, and I was ready to go for a drive.  Except… no one was around to help me bleed my brakes.  The local vendor didn't have any Speed Bleeders in stock, and my tool shop wanted $300 for a pressure bleeder.  Reasonable maybe, but not when friends would be back in town the next week… or when there was a catless up-pipe on Kijiji for $50.  I made a phone call, took the wife's car for a drive, and came home to take my car back apart.
Subaru's are not easy cars to work on… I had to undo the engine mounts, jack the engine up, remove the intake, pull the down pipe and…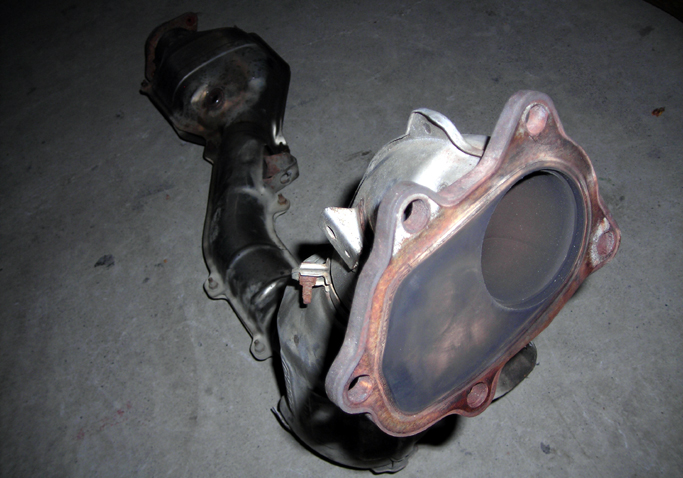 … Hyeh!?
That's what the stock downpipe looks like?  No way in hell I was putting that back on the car.  Subaru's really are glorified tractors.  After more parts were ordered, the cycle of waiting continues.